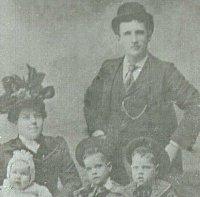 THE GREAT STORM OF 1900
DESTROYED MOST OF THE IMMIGRATION
INFORMATION STORED IN
THE GALVESTON CITY HALL,
SO MOST OF THE INFO I HAVE IS WHAT
MY FATHER (JOHN J HEFFERNAN SR.) CAN
REMEMBER ABOUT HIS IMMEDIATE
FAMILY.
This picture is from the Texas State Library and was taken from atop a
pile of debris - there are no hills on Galveston Island.
Check the Storm site
.